---
PLÅT & VENT MAGAZINE -
INTERVIEW
Interview in the Magazine and Lecture about the Blue Park project in Frihamnen, Gothenburg and the reuse of Materials in construction.

"In Frihamnen, the industrial harbor area that is gradually becoming a new, central part of Göteborg, we can still find fascinating functional objects that speak of it's industrial past. Boats, cranes, tall lamps, hangars are all mostly made of steel and gracefully show their age with signs of corrosion. The public sauna was in 2014 introduced as a brand new object in the area and marks the transition time between the industrial past and the urban future. With its cladding material, it pays tribute to it's surroundings and the cultural heritage that the Frihamnen has in the city."

---
CLUB TRANSMEDIALE
CTM 2019 -
PERSISTING REALITIES

2019
/ Exhibition Design, Public Installation Art
/ Kunstraum Kreuzberg Bethanien, Berlin
/
Disk Agency ︎︎︎
Celebrating CTM's 20th anniversary edition with "Persisting Realities". A broader look into "the challenge of cultivating persistence without tumbling into rigidity or dogma".The Exhibition looks not only to foster the individual but also the collective. Persisting Realities plunges us into recognizing diversity.

The visitor enters towards a sequence of rooms that enables an open-end walk that speculates with changes in atmospheres. On one side of the exhibition space the displayed art pieces play with the very visible complementary color scheme. On the other side we merge into a different version with dimmed light rooms of sound and moving images. The visitors feel this transition through a corridor who's walls reflect the light that indicates them the way. The flickering light is intensified by a light absorbing black floor and ceiling.
---
FLUSSBAD BERLIN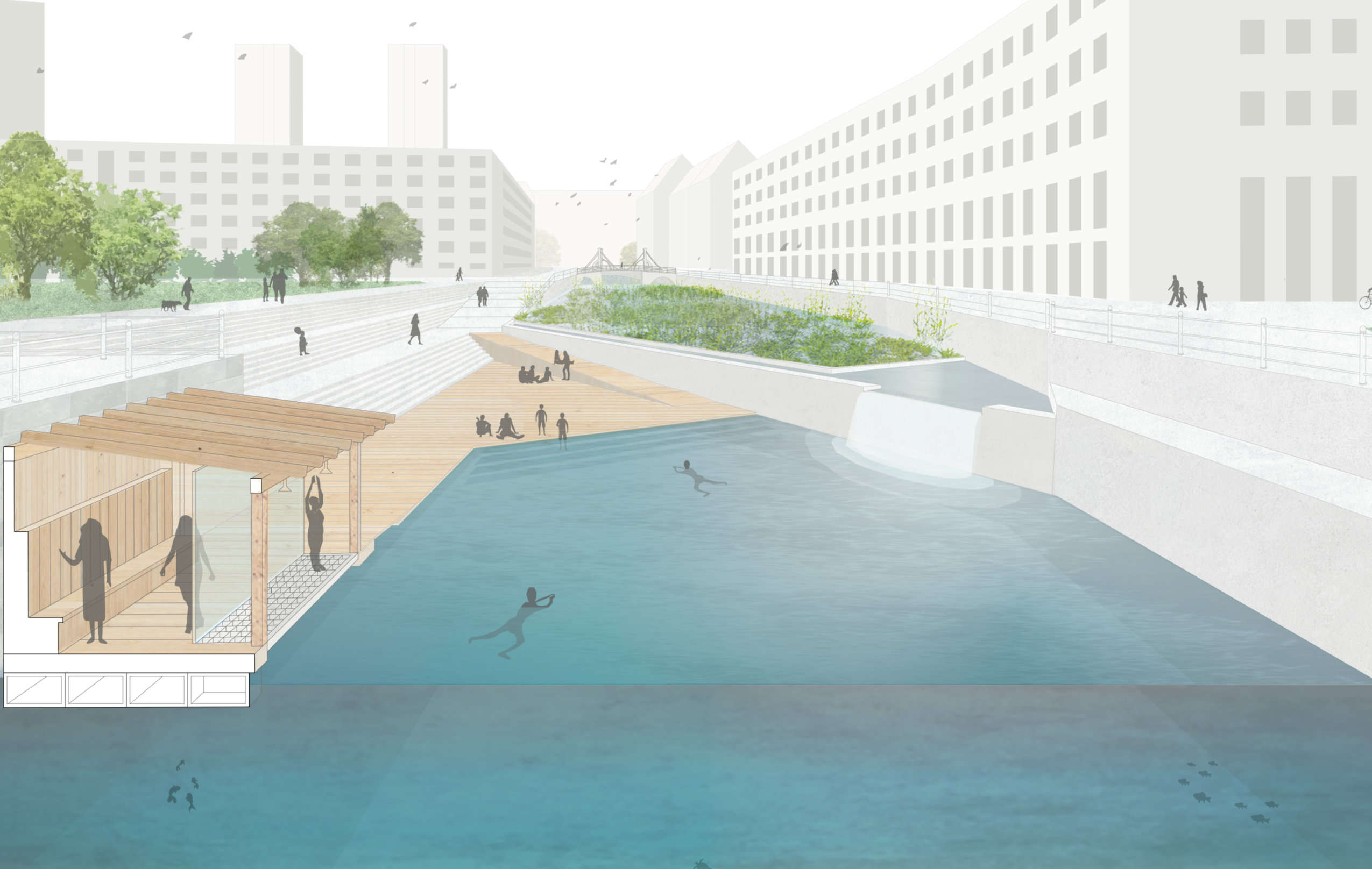 Flussbad Berlin, a project conceived by a group of architects and artists known as "realities:united", aims to transform the Spree river Canal into a free accessible swimming area in the downtown Berlin district - Mitte. The idea is to filter the water entering the canal in an ecological manner and have it flow into a "Flussbad" or river pool further downstream where it would offer 1km of free swimming between the museums.